---
Labor Day Red Baron Fighter School and Fly-in
In addition to the annual Gardner Kansas Fly-in on Father's Day in June, the GWAA will be having its first "Red Baron Fighter School and Aero Picnic" on Saturday before Labor Day at Aerodrome Les Noyers outside of Dayton Ohio.
This is an "Off-Year" event to the Dawn Patrol Fly-in here and a nice venue for WW1 replica flyers, builders and those interested to get together. We'll have qualified historians and instructor pilots who will go over the basics of formation flying and basic air combat maneuvering as it applies to WW1 aircraft. We'll have the usual pot luck lunch (Bring Food ), with flying demos all day and opportunities for formation flying and participation for visiting WW1 replicas. It's all geared to be a fun way to help make us all better WW1 replica pilots. This is a private GWAA (no museum) deal, and we have lots of room for trailered aircraft. Hangerage is first come first serve.
There's lots of hotels and restaurants and even an outlet mall pretty close - and of course the USAF Museum and Wright Brothers sites...and maybe some surprises at the Aerodrome
There's a post in the events section and the GWAA FB page, so watch for updates there or the Aerodrome Forum!
https://www.facebook.com/GreatWarAero
Please help get the word out! And Bring Food!
---
If you are thinking about building your own WWI flying replica but just can't make up your mind... DO NOT CLICK ON THIS LINK Remember, I warned you NOT to click on the link!!!
---
Don't Forget the annual Memorial Day Salute to Veteran's Air Show held at Columbia Regional Airport over the Memorial Day Weekend. We NEED as many WWI aircraft: flying, static, projects as we can get to show up. They will treat you better than you will EVER get treated at any other show you will attend!! Email me HERE for more information!!
---
And, we're on the aviation blog, JetWhine.
---
Check out this GREAT video clip by Chris Gerlach from the Gardner, KS 2011 Gathering of Eagles. Click HERE
And, a TV station from St. Joseph came down and interviewed Marvin Story about the Gardner fly-in. Enjoy. Click HERE
---
Dick's Latest Book!!
Read the review of it from the JetWhine Aviation Blog.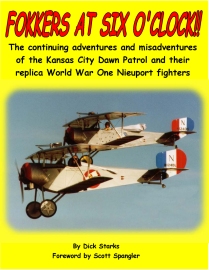 Click on the cover for more information!!

Want to start reading instantly on your Kindle, Ipod, Ipad, Iphone or compatible tablet? Then Click HERE
---
You too can become an honored member of The Few, The Shameless...
"The Trailer Weenies."



Click on the photo above.. or here.. anywhere...